Exports data likely moves the Asian currencies
FX views: Amid the background of a 1.3% fall in the Dollar Index, emerging Asian currencies strengthened against the US dollar last week. Thai baht led gains, followed by Taiwan dollar, Korean won and Indonesia rupiah. The Chinese yuan strengthened more marginally against the dollar, likely due to the persisting concerns over the Chinese economy with the release of China's key macroeconomic data for October.
Week in review: China's year-on-year growths of key macroeconomic indicators in October were a mixed bag, with IP and retail sales growths accelerating and giving positive surprises, FAI expanding at a slower pace and surprising market to the downside, and property investment missing market expectations by declning further. This October, India's exports rose 6.2%yoy following a 2.6%yoy contraction in the prior month, while Indonesia's exports dropped 10.43%yoy last month after rising 16.22%yoy in September. Meanwhile, India's headline CPI inflation came in at 4.87%yoy in October, down from 5.02%yoy in the prior month.

Central bank monitor: The PBOC kept its 1-year Medium-Term Lending (MLF) facility rate unchanged at 2.5%, even as it injected more liquidity into the banking system. The Philippines central bank kept rates on hold, following the recent off-cycle rate hike. We will have PBOC's loan prime rate and Bank Indonesia's policy decision this week, where we expect no change in rates.

Week ahead: Asian calendar features 3QGDP for Singapore and Thailand, industrial production for Singapore, exports data for Taiwan, South Korea, Malaysia and Thailand, inflation report for Malaysia and Singapore, as well as rate decisions from PBOC and BI.
---
CHINA'S HEADLINE Y-O-Y GROWTHS OF KEY ECONOMIC DATA FOR OCTOBER WERE A MIXED BAG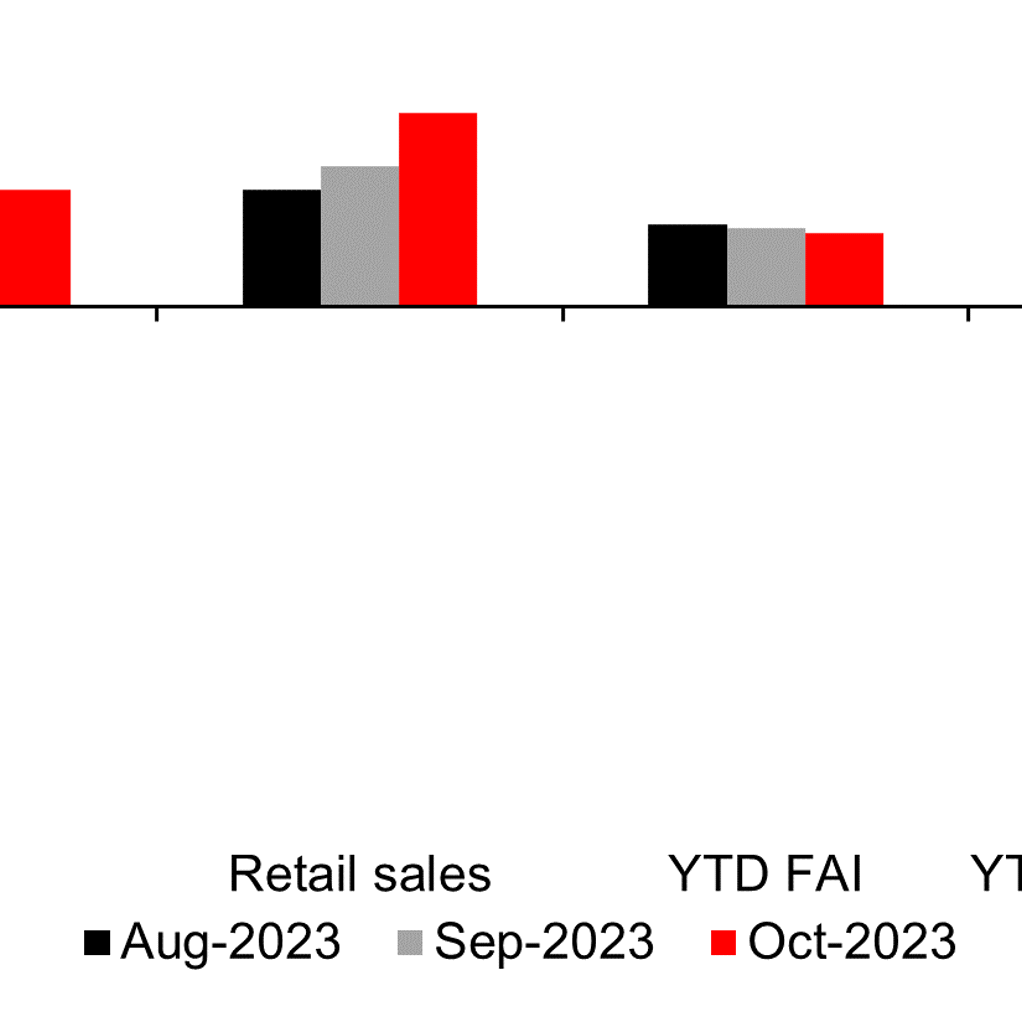 Sources: Bloomberg, MUFG GMR